"Working for excellence" is the key quality of ABZUA Manpower services which distinctly separates it from other recruitment agencies, stamping it as a standard hallmark!
Human resource services and recruitment process is offered at ABZUA Manpower services. Skill and talent are acknowledged and boosted here. ABZUA Manpower recruitment agency catches the right resources for our clients in Pakistan and Gulf countries, by the dedication of its trained staff along with years of experience & professional expertise

Abzua Manpower is the right human resources agency that serves with honour and credibility. ABZUA Manpower services have the talent that top lists it in the field of professionalism.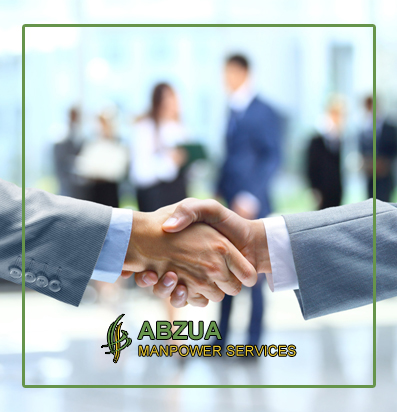 This recruiting agency has the advantage of a fast-growing recruitment agency with excellent reliability. ABZUA Manpower services for excellence, and it believes in client satisfaction with the goodness of work.

Honour is the dignity of those who hold the high value for this top-notch recruitment company. Yes, the clients are significantly provided with the best services without any compromise. This agency delivers deserving and unmatchable distinctive qualified candidates for our overseas recruitment partners. This agency offers services in construction, manufacturing, health & safety, trading to shipping, aviation, travel, accounting, finance, banking, and much more.